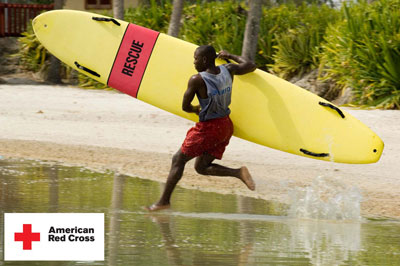 Price
$140 per person + $25 Mandatory American Red Cross Certification Fee + $20 WML Registration Fee
Prerequisites:
Minimum age of 15
Swim 550 yards (about 500 meters) continuously

200 yards front crawl using rhythmic breathing
200 yards breaststroke using pull breathe, kick, glide
200 yards front crawl, breaststroke or combination of both

starting in the water, swim 20 yards using front crawl or breaststroke, surface dive 7-10 feet, retrieve a 10-pound object, return to the surface, swim 20 yards back to the starting point with the object and exit the water without using a ladder or steps, within 1 minute, 40 seconds
swim 5 yards, submerge and retrieve three dive rings placed 5 yards apart in 4-7 feet of water, resurface and swim 5 yards to the side of the pool.
Requirements:
Completion and competency of precourse skills and score 80% or better on final exam. Participants must behave maturely and responsibly and must attend all classes.
Certification Includes:
Surveillance skills to help you identify behaviors of swimmers, distressed swimmers and active or passive drowning victims
General procedures and rescue skills for an emergency occurring in the water or on land
Skills used in special rescue situations, such as missing person procedures and cold-water rescue
Course Length:
The course is 5 hours long based on 8 students. Participants must complete all 5 hours to be eligible for certification. Course is held outdoors in fresh water – bring warm clothes to change into if necessary!
Certification:
Waterfront certificate is valid for 2 years with a valid Lifeguarding certificate.