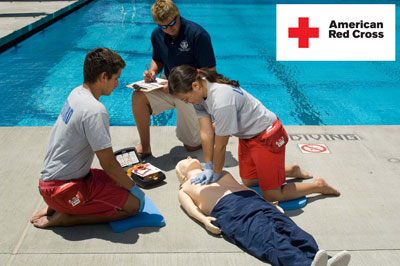 Price
$120.00 per person +$33 Mandatory American Red Cross Certification Fee + $20 WML Registration Fee
Cardio Pulmonary Resuscitation (CPR):
CPR can either be conducted as workplace CPR or CPro. Workplace CPR is usually conducted for a business such as a restaurant, commercial store, supermarket etc. CPro (CPR for the Professional Rescuer) is used to certify lifeguards, parks and recreation staff, daycares etc. CPro includes child, infant and adult CPR as wll as AED training.
Automated External Defibrillator (AED):
AED's are now found in most major malls, gyms and supermarkets and are now being purchased by small and large businesses. AED's are known for being one of the foremost components in the "Cardiac Chain of Survival." More and more people are becoming certified to use and AED to help save lives.
First Aid:
This course is used to train participants how to respond in a 1st Aid emergency. Whether it is an open wound, a trip, fall, or sudden illness, participants will learn how to respond and act quickly. You will even know how to care for a person who is suffering from a heat or cold related emergency or various types of burns. 1st Aid certification are apart of lifeguard training but even if you are not a lifeguard 1st Aid is a good thing to know.
All students will be provided with his/her own equipment to be used during class. We also follow very strict sanitizing measures between classes for all equipment.