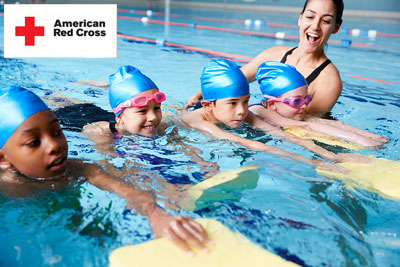 Price
$505.00 per person +$41 Mandatory American Red Cross Certification Fee + $20 WML Registration Fee
Prerequisites:
16 years of age on or before the last date of the course
Complete precourse session which includes:Swim the following skills at a learn-to-swim Level 4
Front Crawl-25 yards
Breaststroke-25 yrds
Elementary Backstroke-25 yards
Sidestroke-25 yards
Step into water and totally submerge
Float or tread water for 1 minute
Rotate one full circle and orient to exit
Swim 25 yards without stopping
Exit the water without using steps or a ladder
Requirements:
In order to become a Basic Swim Instructor you must complete the precourse skills, attend all classes, participate and be prepared for the four teach-back assignments and score at least an 80% on the final written exam. All class participants must arrive on time, have homework assignments finished and ready for review each day of class and receive feedback from fellow classmates with maturity and an open-mind.
Certification Includes:
Once you have completed the Basic Swim Instructor course you will be certified to teach:
Parent and Child Aquatics (2 Levels)
Preschool Aquatics (3 Levels)
Learn-to-Swim Levels 1-3
Private Lessons (for Above Levels)
Longfellow's WHALE Tales
Water Safety Presentations:

General Water Safety
Home Pool Safety
Parent Orientation to Swim Lessons
Sun Safety
Rip Current Safety
Course Length:
The BSI program will be conducted alongside the WSI program and is comprised of 27 hours of in-person instruction.