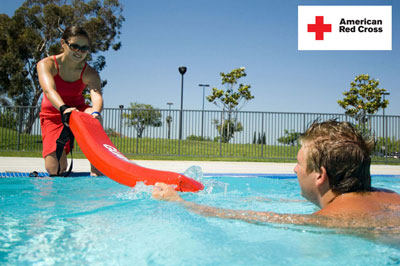 Price
$485 + $42 Mandatory American Red Cross Certification Fee + $20 WML Registration Fee
Prerequisites:
15 years of age on or before the last date of the course
Swim 300 yards (12 laps or 24 back & forth as a continuous swim, no stopping at the side or midway.) Demonstrating breath control and rhythmic breathing to the side and arms must come out of the water. Candidates may swim using the front crawl, breaststroke or a combination of both but swimming on the back or side is not allowed. Swim goggles may be used.
Tread water for 2 minutes using only the legs. Candidates should place their hands under the armpits.
Complete a timed event within 1 minute, 40 seconds.

Starting in the water, swim 20 yards. The face may be in or out of the water. Swim goggles are not allowed.
Surface dive, feet-first or head-first, to a depth of 7 to 10 feet to retrieve a 10-pound object.
Return to the surface and swim 20 yards on the back to return to the starting point with both hands holding the object and keeping the face at or near the surface so they are able to get a breath. Candidates should not swim the distance under water.
Exit the water without using a ladder or steps.
Requirements:
Completion and competency of prerequisite skills and score 80% or better on final exam. Participants must behave maturely and responsibly and must attend all classes.
Certification Includes:
Lifeguarding
CPR/AED for the Professional Rescuer
Oxygen Administration (optional)
Bloodborne Pathogen Training: Preventing Disease Transmission (optional)
Course Length:
The course is 21 hours in class work and 7 hours at home online study based on 8 students. Participants must complete all 28 hours to be eligible for certification.
Certification:
Lifeguarding/First Aid: 2 years; CPR/AED for the Professional Rescuer: 1 year