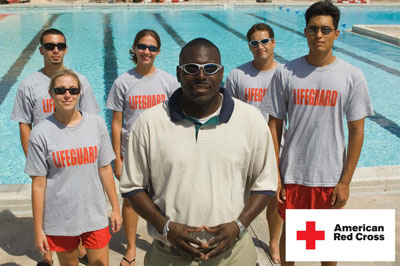 Price
$500.00 per person
Prerequisites:
17 years old on or before the last day of class
Complete online Blended Learning before the first day of class, link will be emailed to you once you have registered for the class
Complete precourse session which includes

80% or higher on written exam
Pass all base level lifeguard skills
Requirements:
Completion and competency of precourse skills, oxygen administration and exam (even if participant was not previously certified,) score 80% or better on final exam. Participants must behave maturely and responsibly toward all activities including the feedback given by fellow classmates. All class dates must be attend.
Certification Includes:
Lifeguarding
Waterfront Lifeguarding
Waterpark Lifeguarding
Shallow Water Attendant
Lifeguard Management
CPR/AED for the Professional Rescuer
Oxygen Administration (optional)
Bloodborne Pathogen Training: Preventing Disease Transmission
Basic Water Rescue
Jr. Lifeguard
Safety Training for Swim Coaches
Water Safety Presentations

Water Safety Today
General Water Safety
Home Pool Safety
Course Length:
This class is 21 hours based on 10 students. To be eligible for certification, all class sessions must be attended and participants must complete all 18 hours.
There is an American Red Cross fee of $35 that must be paid to the American Red Cross that is in addition to the WML Aquatics LLC fee for the course.  The fee has been added into the Registration fee that WML Aquatics LLC will pay to the Red Cross on your behalf for the Certification.